Matagorda Texas RV parks, Texas Gulf Coast RV parks and RV rentals, Matagorda Beach RV Park, Texas Gulf Coast campsites, RV rentals at Matagorda Texas, Matagorda Texas RV Rentals, Matagorda Bay RV Rentals, Matagorda Beach, Texas RV Parks and Rentals, camping and RV at Matagorda Texas, Texas Gulf Coast RV Parks and Campgrounds, Camping in Texas, Gulf Coast RV Resort, Texas State Parks for RV camping, Texas campsites and RV parks, camping on the Texas Gulf Coast

Live Oak RV Park

479 Live Oak

Matagorda, Texas

832-309-2904

Welcome to Live Oak RV Park at Matagorda Texas on the Texas Gulf Coast....!
We are located in beautiful downtown Matagorda Texas, just 3 blocks off of Hwy. 60 on the corner of Live Oak and Center Street, see map below.

Live Oak RV Park at Matagorda Texas offers a quiet, well lit atmosphere with 4 outdoor showers to comfortably rinse off sand/salt or simply to cool off after a day of Matagorda Bay fishing or playing at nearby Matagorda Beach. Additional parking for boats is located in the front. Matagorda Harbor is approximately 5 blocks away and several great restaurants are within minutes. Matagorda Beach is approximately 10 minutes away and Matagorda Bay is short boat ride away.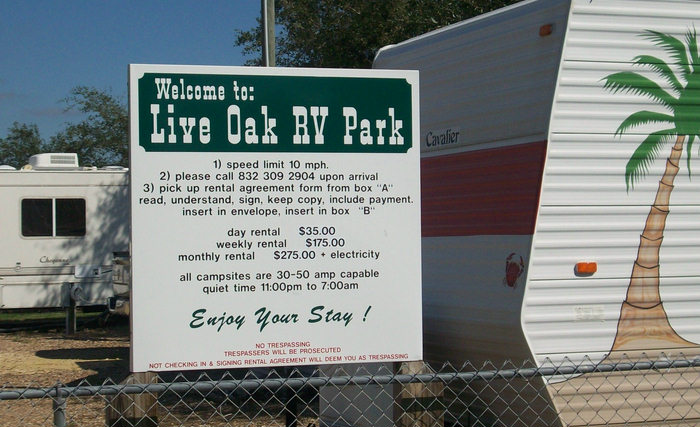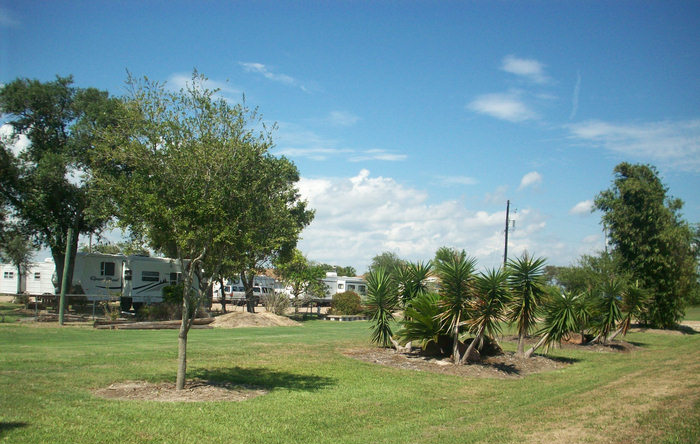 Space sizes:
Space #'s 1-5 33'6" x 45'
Space #'s 6-9 32' x 45'
Space #'s 10-11 31' x 45'
Space # 12 30' x 45'
All 12 spaces are 30 / 50 amp capable.

Rates:
(Include water, sewer, trash and electricity unless otherwise stated)
Daily $35.00 per day
Weekly $175.00 per week
Monthly $275.00 (+ electricity and deposit)

Directions:
Take Hwy. 60 to Matagorda, Texas. After you pass the Matagorda Harbor, turn right on Bernardo Street. Go 3 blocks to Center Street and turn left. We are ½ block down on the right.

Please call 832-309-2904 to reserve your spot today..... Enjoy your stay!!