Vacation Rentals at Matagorda Beach - Beach Front Drive.
Property Owners....If you would like your Vacation Rental listed here,
Email us for current Rental Listing Rates
.
#70 - The Sand Castle
Right on Matagorda Beach! Best Rates! Large Covered Deck with Awesome Front Row View overlooking The Dunes & The Gulf of Mexico.

Sleeps seven (7), COLD CENTRAL A/C, Satellite TV.

PETS WELCOME

Rental rates and details at:
http://www.texassurfspot.com/
Call 214-597-0204

#75 - Barton Rental
If you are looking to rent a beach house, look no futher. Number 75 Sterling Shores accommodates large or small groups for family fun, fishing or hunting. This newly decorated house, across the street from the beach, can sleep 8+ with two large bedrooms and baths,a grand open kitchen, with living and dining area. The house is fully furnished and features central air and heat, a loaded kitchen and TV with VCR and DVD. The dining room table will accommodate ten. Come and enjoy Matagorda beach (walking distance),whether relaxing on the sand, surfing the waves or fishing the surf or bays this is a great location.
....NOT AVAILABLE FOR RENTAL AT THIS TIME....

Vacation Rental #114

This beautiful house is a step above the rest. Located on the beach side of Beachfront Drive, this great vacation house is just a few steps over the dunes to the gulf.

Recent construction, breathtaking beach front view, 2 story ceilings in living areas and master bedroom. Ammenities include slate kitchen counter tops, microwave, central heat and air, stereo system with both indoor and outdoor speakers, satellite TV, washer and dryer and much more. For Reservation information, visit website.

Web Site: www.matagordatexas.com/rent114/


Vacation Rentals at Selkirk Island on the Colorado River


| | |
| --- | --- |
| - Rental home on the Colorado River at Selkirk Island, with near boat ramp access and private fishing peir right out your back door. This lovely rental home features a full kitchen, living, and dining rooms downstairs with three bedrooms and two full bathrooms upstairs. The location offers excellent access to superior fishing and birding sites throughout the Colorado River, Matagorda Bay system, Intracoastal Waterway, and offshore Gulf of Mexico....Call 281-343-1006 or visit there web site at MatagordaBay.com. | |
| | |
| --- | --- |
| - On the Colorado River at Selkirk Island, with your own private fishing pier and near by boat ramp access. Click here to go to their new web site and see the many features this rental property has to offer which include full kitchen, den, with three bedrooms and two bathrooms. The location offers access to fishing in the Colorado River, Matagorda Bays, Intracoastal Waterway, and offshore Gulf of Mexico....call (979) 532-1668 or visit there web site. | |
Back to Top of Page
Huitt Vacation Rental > Matagorda, TX >
Close to local restaurants and grocery stores. Matagorda Harbor is only minutes away, less than a mile distance. Great fishing in East and West Matagorda Bays awaits you! Just minutes to bait camps and restaurants along the River Rd. and in town. Safe and very secure location. Matagorda Beach and Matagorda Jetties are only a 8 minute drive. Sleeps 8 adults comfortably. Newly refurnished...very nice! Two bedrooms, den, large enclosed front porch, kitchen and bathroom with tub/shower. Website here...
The Crab Trap at Jenson Point, Palacios, TX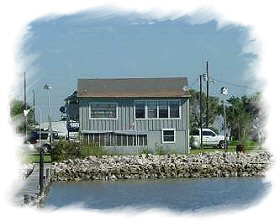 The Crab Trap @ Jenson Point
(Palacios, Texas location)
is perfect for the family vacation. Come and see why the Palacios area is one of the most admired for its beauty and tranquil natural setting along the Texas Gulf Coast. Just 80 miles SW of Houston, this fisherman's paradise is truly the perfect getaway. With our 350' lighted pier, fishing is just a few steps away. Click on our link to learn more.

Click here for our website!
Matagorda - Sargent - Palacios Texas Vacation Rentals:
Matagorda Texas vacation rentals, beach house rentals, motels and river front rental properties. We feature detailed listing of vacation rental properties for the Matagaorda area to insure you find just the right place to stay on your next Matagorda, Sargent, or Palacios Texas Vacation. Included below are motels, fishing lodges, and select rental properties at Matagorda, Matagorda Beach road, and in the town of Matagorda, as well as Sargent and Palacios, Texas. Thanks for visiting our Motels and Rental Properties web site. Hope we've helped in planning your next Texas Gulf Coast fishing trip or family beach vacation!




This is page 1 of 2
Click Here to Go to Page Two
To go to the MatagordaTexas.com home page, CLICK HERE